The Pitfalls of San Andreas Pt. II
A GTANet.com Original Presentation
After the warm reception I received from doing my first article on the network, I decided there was only one logical path to take in writing my follow-up article... write part two and piss off more fan boys!
Some people in the community have accused me of being negative towards the franchise that we all know and love so very much. While you might get that impression off reading Pt. I of my article, I must object. I've been a loyal fan of the series, dare I say, before most of you even knew what the acronym GTA stood for. The first installment I played was the now aging "Grand Theft Auto", the original in all of its lo-res top-down glory. It's hard not to reminisce awhile on that pre-pubescent young Canofceleri, sitting on the guest bed, eyes glued to the 2D action going on in front of him, while my now historic PlayStation console spun the disc around no faster than little Cand was eager to take it all in. But... I'll refrain from all of that and get back on course.
Now I'm 17 and a senior in high school. I am now (thankfully, very) pubescent and the original GTA is no longer at the top of my most played games list. Like what will happen when more than half a decade passes, we've all moved onto bigger and better things and Rockstar Games is now going to bestow onto us their third take on the gritty 3D world of Grand Theft Auto with "San Andreas" this fall. But instead of rambling on about how great it will be like all the magazines, fan sites (this one does too, just not in this article), Dan Houser, and your grandmother too... I'm here to shed light on the other half of the story, which you may or may not want to hear. But if you want fair and balanced (did I just use a news network slogan?) then read on, grasshopper... we're in the heat of summer and the darker, crisper side of the grass is just down that way.
Burger Shot: Where Enemies are Friends
Burger Shot: Where Enemies are Friends
Set the stage for Carl Johnson, the fierce native to Los Santos and to the impoverished streets of the Orange Grove part of town. He's no stranger to gang violence and thug-bumpin' either. The setting is a seedy looking tenement located in the city's south side. Carl is about to bust down the door of a true OG, a member of the Ballas. This is a scene of revenge, the Ballas OG clipped Sweet Johnson during a drive by on enemy turf and Carl is knocking on doors for compensation in the form of blood.
"Aiyo, muthaf*cka!" CJ shouted, he ran over the busted down door, but it was only a speed bump that heightened his anger and vehemence.

"Goddamn, homie! Put the gun down, put the gun down! What's wrong with you homie love, not hugs just slugs in me?!" CJ approached him, his MP5 grasped tight, its reticle focused between the surprised thug's eyes.

CJ gritted his teeth in fury, his jaws about to shatter with emotion, "Homie, your ass would be grass right now if I wasn't starving! Jam on! Come with me to Burger Shot and we'll talk over this gang sh*t and stuff over a royale with cheese, homie."
San Andreas... where gats and thugs make way for happy meals and the Hamburglar. I admit it, even I was excited at hearing our character now would eat, and if he spent too many dimes at places like the Burger Shot or Cluckin' Bell he'd even get fat! Making things even more interesting, his physical state would effect actual gameplay and the imbalance would sway his total percent body fat either in the positive or in the negative.
San Andreas... where gats and thugs make way for happy meals and the Hamburglar...
Me? I don't mind it a bit, but this is bigger than just me. I'm reporting on some major concerns that much of the community has. What if, just what if, the above bit of fiction that I had to offer was really not that far off from an actual in-game scenario. And don't put it past Rockstar, they are after all the same people who had you chasing a van so that you could pick up its dropped contents, that being pornographic magazines which feature donkeys.
The fact is that the majority do not want it to become a bothersome gameplay device. While a crime game that could be compared with EA smash PC game "The Sims" would be cool in theory, most fans don't want to have a virtual mini-me to upkeep with. And the thought of having to stop in the middle of a high-octane revenge mission to stop for some fries and a shake is all too close to reality for comfort.
But in the end...
In the end, against allegations that my articles are negative... there isn't much to be negative about is there? In both installments of my Pitfall series we've only discussed four topics. Which isn't much when you put it up against what Rockstar will deliver to us this fall... and lets face it -- Rockstar always delivers and in droves.
But some food for thought. We've covered possible map size scandals, questionable vocabulary selections in dialogue, the apparent absence of racial tensions as a plot device, and the new feature in the "dietary" sector this game will explore and what it might unfortunately impose on our enjoyable gameplay experience. Being positive is a good virtue... but being balanced is a better one.
Canofceleri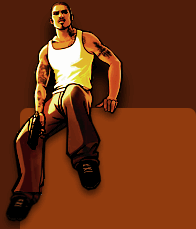 Search News