A big part of what the GTA Network is about is interesting reading. We don't stop at bringing you the news, we bring you intriguing articles you want to read. Take a look at the following articles for some food for thought.
Also, please keep in mind that these articles are editorials. They are the personal opinions of the writer, and do not necessarily reflect the opinions of the GTANetwork as a whole.
Nobody can give you a better idea of what Rockstar might have in store next for the Grand Theft Auto series, than our expect writer Canofceleri. In the first of a series of articles, Canofceleri discusses what a massive multiplayer GTA game would entail, and how he would imagine it.
"Shortly after the release of "Vice City" the name "Crime Online" surfaced somewhere through the confusion that internet gaming sites provide, but traces of its existence quickly subsided. I'm here to bring it back though, except I'm going to detail exactly how such a title would be if the mastermind behind its production was me. My concept is as follows: Crime Online is a MMORPG (massive multiplayer online role-playing game) with its roots in different cities rife with crime and all around grit. You must control your custom player in real time through a city filled with other players like yourself... you must climb the ladder."
Nobody can question the serious thoughts that have been brought up by Canofceleri's "Pitfalls of San Andreas" series. Taking the bull by the horns, PyroHazard has submitted his own piece of work about the possible issues with the new features in San Andreas. Some topics may have been previously addressed by Canofceleri, but it's a great read nonetheless!
"Some of us have the conscience of knowing that when hype is built up, it has both good and bad sides. Good meaning the vibe of knowing that yes, the game does exist - and it squashes many crap ass rumors. The bad side is like the cancer to the hardcore players. They expect too much and get too little to meet their standards. Lets take a look at some of the features we need to watch out for in San Andreas."
Canofceleri addresses the concerns he was presented with by fans after the first part, and reveals one more downfall of a feature in San Andreas which we've learnt more about lately.
"San Andreas... where gats and thugs make way for happy meals and the Hamburglar. I admit it, even I was excited at hearing our character now would eat, and if he spent too many dimes at places like the Burger Shot or Cluckin' Bell he'd even get fat! Making things even more interesting, his physical state would effect actual gameplay and the imbalance would sway his total percent body fat either in the positive or in the negative."
When it comes to copyrights and who-owns-what, things can get a little confusing. Avoiding the fancy words of legal documents, Tsuroki gives his views why it's better to skip the scans when it comes to operating a GTA fansite.
"Fansites, struggling to stay up to date with the latest news and content, have only these magazine scans to refer to when it comes to getting new in-game screenshots. These low-resolution scanner images aren't the greatest thing in the world, but they seem to be enough to please the fans. Normally, I wouldn't say boo to such a thing -- but the problem is that using such material tends to get some magazine companies a bit angry."
Canofceleri writes about professional lying, the ultimate sin, and how we can brace for a disappointment.
"Rockstar's ever popular Grand Theft Auto franchise has truly proved something -- gamers are greedy, needy, and get anxious at having to wait. We've all heard the print publications have been cramming the greatness that will be "San Andreas". Well, I've come to burst your bubble. I'm here to tell you every way in which Rockstar can f*ck this game up. So, sit back, relax... grit your teeth like a fanboy."
Over the last month we've heard about Los Santos and the countryside. What else is there to look forward to? Vegas is here to tell you.
"As I sit here, eating my waffles, I have two thoughts going through my head: how amazing blueberry pancakes are with maple syrup, and "What about San Fierro?" And what about San Fierro?"
If you are interested in writing an article for GTASanAndreas.net, please contact DigitalD or any other staff member on GTAForums. We cannot guarantee that any submitted articles will appear on the site.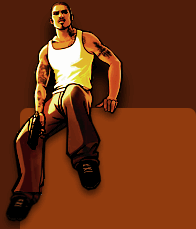 Search News