June | July | August | September | October | November
November 2004
Man!ac

Another German print publication, Man!ac, done a San Andreas preview in their November issue. Between going on about the larger polygon counts and shorter loading times, they revealed a few less-known pieces of information.
Edge Magazine

Featuring three new screenshots of San Fierro, the November issue of Edge Magazine had a two-page preview on the new Grand Theft Auto.
Electronic Gaming Monthly

EGM were given a world exclusive look at the third city, Las Venturas. New details about gambling, casinos, and first ever screenshots of the city. They also summarised other areas of the map.
Gamepro

Gamepro Netherlands had a rather extensive San Andreas preview, containing new info and gameplay details.
OPM2 Germany

OPM released a number of new gameplay details, and information about San Fierro.
Games Master

Games Master were the second magazine to reveal San Fierro details (Behind PSM2). They done a roundup of Los Santos, San Fierro and the countryside. Although most of the information was already known, the screenshots were in a far more presentable fashion, than other magazines.
Power Unlimited NL

Dutch gaming magazine Power Unlimited returns with a quick runthrough of the San Andreas countryside. What's new? Not much, unfortunately. We're just happy that we can entertain ourselves with a chunky police sheriff and his 4x4. Word is SUV's roll easily... anyone up for a high-speed chase down Mt. Chiliad? Yeee-HAW!
Official Playstation 2 Magazine US (#85)

Once again, OPM provides us with an overview of what we know already - the storyline, gameplay and new West-coast atmosphere. However, there was a little something else squeezed in - an interview with hip-hop personality DJ Pooh, and his involvement in the development of San Andreas.
Unofficial Playstation2 Magazine UK (#53)

Outstanding 8-page preview full of San Fierro information. This was the first magazine to have hands-on San Fierro experience.
playPlaystation Magazine

Featuring new screenshots and information, German publication "playPlaystation" was the first to reveal new content surrounding the city of San Fierro.
Playstation Extreme

PSE was one of the magazines that was allowed to see the demo build with San Fierro intact, and reported first that tobacco is purchasable in San Andreas.
Official Playstation 2 Magazine (#50)

Switching from the ghettos of Los Santos to the hick-filled countryside, OPM presented new screenshots and info that rounded off September's SA coverage.
Games™ Magazine

New details about San Andreas emerge, as Australian magazine GamesTM publish a twelve-page preview. The article focuses on the linking of cities, and the areas between those cities, i.e the countryside and the twelve small towns. Also includes new information on pedestrian AI.
GMR Magazine

GMR Magazine published an article containing various new details about the gameplay aspects of San Andreas.
Gamestar Magazine

This German publication featured a 2-page preview on San Andreas which included some new information on the number of radio stations, available weapons and vehicles.
Unofficial Playstation2 Magazine UK (#52)

PSM2 Magazine (UK) released a 4-page GTA San Andreas feature that focused mainly on mission scripts from the demo they were shown by Rockstar.
Play Magazine UK (#118)

August's issue of Play Magazine featured a massive 9-page preview of San Andreas. Giving us our first glimpse at the countryside of SA while "keepin' it real" with a plentiful review of the suburban setting, Play was a must-read double dose of GTA goodness.
Bravo Screenfun

German magazine Bravo Screenfun was treated to a huge exclusive preview of San Andreas. This issue was available in Germany, Austria, and Switzerland until August 17th -- if you can manage to find a copy still kicking around somewhere, be sure to scoop it up!
GamePro Magazine US

GamePro featured a two-page article in their August issue, which included 9 screenshots -- none of which were new.
Official Playstation 2 Magazine DE

This was the only German publication invited to New York to preview the alpha version of San Andreas. Along with this article, a redrawn map was also published, which we touched up.
Unofficial Playstation 2 Magazine US (#87)

An 8 page preview of GTA: San Andreas was released in the US August issue of PSM2 (US).
Official Playstation 2 Magazine AU (#29)

The timeframe of San Andreas was set straight and there was an interview with Dan Houser. Not much difference from the UK issue released the same month.
Official Playstation 2 Magazine UK (#48)

This was one of the first big previews that really opened our eyes as to what we can expect in GTA: San Andreas. Cops riding motorcycles for the first time, some mission details and so on were revealed.
Unofficial Playstation 2 Magazine UK (#50)

PSM2 (UK) ran a quick overview of what was seen on the official site, including the screenshots and what information has been revealed so far.
Power Unlimited NL

This Dutch publication was the first to beat down the multiplayer rumours. The article was translated by Dutch fans on our network forums.
Game Informer US (#134)

The first big San Andreas preview. Game Informer had a world exclusive on the San Andreas scene during June. They claim they were also the only ones to be shown the game at E3.
Playstation 2 World UK (#57)

Just about the same as the PSM2(UK), just a quick overview of official screenshots and official storyline information.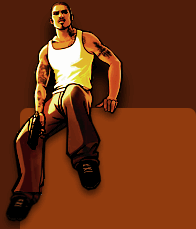 Search News