On Surface

Underwater

button
Dive Underwater
button (Hold)
Swim Forward
button (Hold)
Sprint (Swim Faster)
button (Tap)
Sprint (Swim Faster)
button (Tap)
Super Sprint
left analog stick
Swim Direction
(Rotation Only)
button
Jump
button
Enter Vehicle
Staying afloat in Grand Theft Auto has always proved difficult: In the original Grand Theft Auto, bridges were the only way to travel between areas seperated by water. In Grand Theft Auto 3, we were finally introduced to water vehicles. However, the freedom still remains far too restricted, in that, if you happen to fall out of the vehicle (or flip it) your character will drown.
In San Andreas, Rockstar have implemented a feature that will not only keep you afloat at all times, but open up a whole new range of gameplay possibilities. Moving the left analog stick forward will trigger the classic breaststroke movement, and holding X whilst doing so will force CJ to switch to freestyle mode. This however, can only be done for a set amount of time before CJ's stamina runs out. More interestingly, CJ has the ability to dive down underwater and witness the local marine life (the more often you swim underwater, the greater CJ's lung capacity level). When doing so, a breath-o-meter is displayed, and should it fall below 0, CJ's health starts to deduct until eventually, he dies. These features can be used in various situations. For example, if somebody is chasing you, swimming underwater will cause the pursuer to lose your trail. The triathalon contests always begin with a swimming race.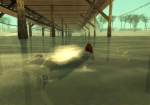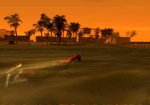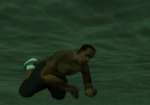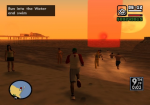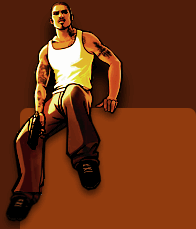 Search News