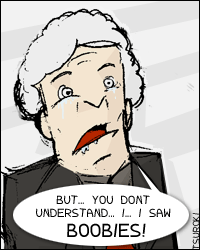 NOW FOR SOMETHING COMPLETELY DIFFERENT: It seems that good ol' Jack is on a power trip. After sniffing the crotch of victory in his crusade against Grand Theft Auto, he's now set his sights on a new target: the Sims. Ho. This is gold.
Jeff Brown, vice president of corporate communications at EA, in response to the accusations, told GameSpot, "This is nonsense. We've reviewed 100 percent of the content. There is no content inappropriate for a teen audience. Players never see a nude sim. If someone with an extreme amount of expertise and time were to remove the pixels, they would see that the sims have no genitals. They appear like Ken and Barbie."

Thompson doesn't buy it. "The sex and the nudity are in the game. That's the point. The blur is an admission that even the 'Ken and Barbie' features should not be displayed. The blur can be disarmed. This is no different than what is in San Andreas, although worse."
LOLZkthx. Come on Jack. Seriously. You're making an ass of yourself - stop it. Even I'm starting to feel sorry for you.
Source:
Gamespot Article